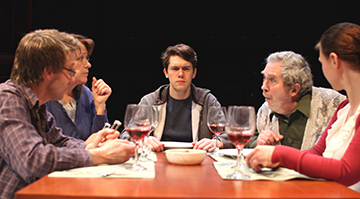 HELD OVER BY POPULAR DEMAND!
Performances added February 2 (2pm matinee), Feb. 7 & 8 (7:30pm)
Flex Passes not applicable to added performance dates.
Billy was born deaf into a fiercely outspoken family obsessed with self-expression. Not only have his parents and siblings never learned sign language, neither has Billy. He has adapted brilliantly into his family's unconventional ways, but they've never bothered to return the favor. Then he meets Sylvia, a young woman from a Deaf family who introduces him to sign language. With a newfound confidence and sense of belonging, Billy finally understands what it means to be understood. When he finds a new family in the deaf community, tensions reach an all-time high in this touching play about membership in your tribe.
"The best-written, best-plotted, deepest, most daring, and funniest new play in recent years."
– Wall Street Journal
"Listen closely, as this play asks, and you'll find yourself suspended . . . on a swaying bridge between two worlds."
– The New York Times
"Tribes has the rare capacity to grapple intelligently with linguistics as a theme while remaining tethered emotionally to a screwball family of writers and academics. The play is like a kite that impresses through the grandeur of its altitude, while the playwright smartly keeps roping it in, so that it has the rare quality of being both lofty and earth-bound."
– LA Weekly