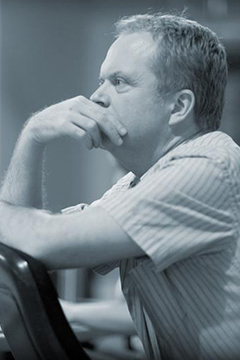 CRAIG WILLIS (Producing Artistic Director) has been at the helm of Oregon Contemporary Theatre since 2003. Craig has an MFA in Directing and a PhD in Dramatic Literature/Theory from the University of Oregon. In 2008, he received an Oregon Arts Commission fellowship to train with Anne Bogart and SITI Company. Craig's OCT directing credits include: David Ives' Venus in Fur, Steve Yockey's Blackberry Winter, Jason Robert Brown's The Last Five Years, Aaron Posner's Stupid Fucking Bird, Nathan Alan Davis' Dontrell, Who Kissed the Sea, Edward Albee's Who's Afraid of Virginia Woolf?, Bruce Norris' Clybourne Park, Nina Raine's Tribes, Adam Gwon's Ordinary Days, Brian Yorkey and Tom Kitt's Next To Normal, Robert Lopez, Jeff Marx, and Jeff Whitty's Avenue Q, Geoffrey Nauffts' Next Fall, Itamar Moses' The Four of Us, Henrik Ibsen's Hedda Gabler, Joe Calarco's Shakespeare's R & J, Martin McDonagh's The Pillowman, Bertolt Brecht's Mother Courage, Anton Chekhov's The Seagull, Stephen Sondheim and John Weidman's Assassins, Edward Albee's The Goat, or Who is Sylvia?, David Auburn's Proof and Thornton Wilder's The Skin of Our Teeth. His scenic designs for OCT include: The Flick, Becky's New Car, Ordinary Days, The Seagull and I Am My Own Wife.
Email: Craig@octheatre.org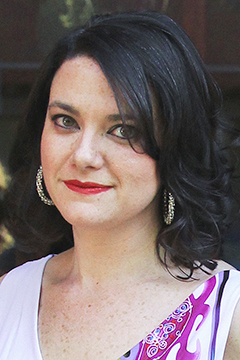 TARA WIBREW (Associate Producer) received her Masters in Arts Management from the University of Oregon. Her background includes theatre performance, directing, administration, new play development, costume design, and stage management, including training at NYU's Tisch School of the Arts' Atlantic Theatre School. Select OCT credits include: direction of Middletown, Melancholy Play (#GoTeamAlmond), Vanya and Sonia and Masha and Spike, A Bright New Boise, and August: Osage County; and acting roles in The Flick, Shrimp & Gritts: She's Gone and boom. Other select directing credits include Peter and the Starcatcher, The Pillowman, The Last Days of Judas Iscariot, and Cyrano de Bergerac. In her spare time, Tara sings lead for Soul Restoration Project and co-hosts What The Musical, a podcast for musical theatre nerds and newbies.
Email: Tara@octheatre.org

GENO FRANCO (Production & Facilities Manager) has held production management positions with Steppenwolf Theatre, The Hypocrites, The Raven Theatre, The New Colony, and several others. He has also worked with various companies such as Oregon Shakespeare Festival, Portland Center Stage, Utah Shakespeare Festival, Cincinnati Playhouse and South Coast Repertory. Geno was recently recognized as a 2017 Theatre Communications Group's Rising Leader of Color. He is also a member of this year's Leadership Eugene-Springfield cohort. Geno is a graduate of the Pacific Conservatory Theatre (PCPA).
Email: Geno@octheatre.org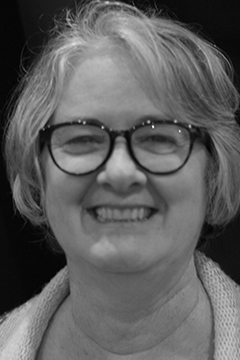 MARY WETHERBEE (Box Office Manager & Volunteer Coordinator) began her involvement with theatre in high school where she acted in several plays. She holds a BA from Penn State in Social Work. Mary's acting credits at Oregon Contemporary Theatre include Life in the Theater and the Northwest Ten plays Paper is Dope and Savage & Strawberry. She has also performed monologues with Actors Table and is active in the Eugene Shakespeare Club and Reader's Theater.
Email: Mary@octheatre.org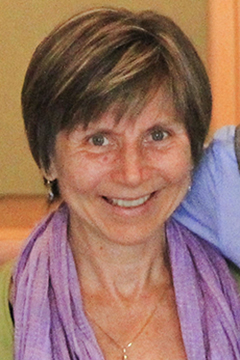 DONNA NAPIER (Bookkeeper) brings over 30 years of accounting and financial management experience to her position at OCT. She is excited to assist in furthering OCT's mission to support positive change through its performances and programs. When she is not reconciling accounts, Donna enjoys running, dancing, and t'ai chi, as well as spending time with her family and friends.
Email: Finance@octheatre.org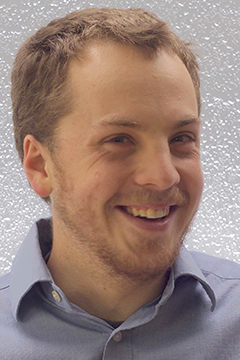 GABE CARLIN (Sound Engineer) joined the Oregon Contemporary Theatre staff in 2015 after receiving a BS in Theatre Arts from the University of Oregon. Gabe is the Executive Director of Brave Umbrella Productions, a new theatre company. Select OCT credits include: sound design for Successful Strategies, Marjorie Prime, Venus in Fur, Melancholy Play, The 39 Steps, Santaland Diaries, The Big Meal, Vanya and Sonia and Masha and Spike, Blackberry Winter, and The Last Five Years; lighting design for Who's Afraid of Virginia Woolf?; and properties for The Flick, Melancholy Play, The Revolutionists, A Christmas Carol, and Silent Sky.
Email: Gabe@octheatre.org
JOSHUA CUMMINS (Marketing Assistant) is currently working on his Masters in Arts Management from the University of Oregon. Originally from Texas, Joshua did his undergraduate studies in Theatre Performance and Psychology at the University of Texas - Arlington and brings his research background and diverse range of experience to Oregon Contemporary Theatre. Most recently, Joshua worked with Artists Repertory Theatre in Portland on An Octoroon. Other select stage credits include: The Big Meal, You Can't Take It With You, Much Ado About Nothing, Goodnight Desdemona, Good Morning Juliet, and Ah, Wilderness!
Email: OCTheatreMedia@gmail.com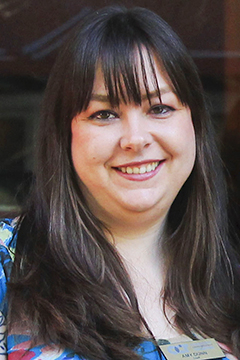 AMY DUNN (Master Carpenter) graduated from the University of Oregon with a BA in Theatre Arts and joined the staff of Oregon Contemporary Theatre shortly thereafter in August 2007. Select design credits include: Stop Kiss, Mud (University Theatre); The Sisters Rosensweig (VLT); King Lear (SPA); and Hello, Dolly! (Lane Summer Musical Theatre). Amy's OCT design credits include: Venus in Fur, Shrimp & Gritts: She's Gone, Rapture, Blister, Burn, A Bright New Boise, I and You, August: Osage County, boom, The Real Thing, The Pillowman, Memory House, Doubt: A Parable, The Clean House, Shipwrecked!, Speed-the-Plow, Hedda Gabler, and Circle Mirror Transformation.
Email: Amy@octheatre.org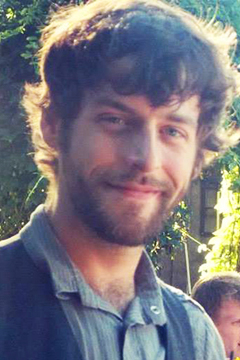 JUSTIN FEIMSTER (Master Electrician) hails from south Georgia, where he graduated in 2009 with a BFA in Theatre with a Production emphasis from Valdosta State University. For a number of years after hanging his plank in Eugene, he was a Company Dancer and sometimes Stage Manager for Ballet Fantastique and still serves them as a Lighting Designer. He also quickly began working with Eugene's IATSE Local 675 as a stagehand and electrican. Justin joined the crew of OCT in 2014 and designed lights for OCT's premiere of Shrimp & Gritts: She's Gone and the last three seasons of the Northwest 10 Festival.
Email: Justin@octheatre.org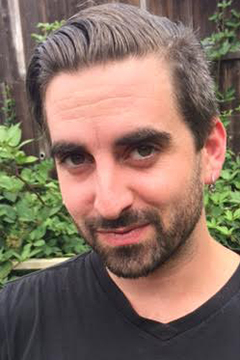 BENJAMIN SANDERS (Carpenter) is glad to be a part of the team at Oregon Contemporary Theatre. He grew up performing and building sets for shows at California's Palo Alto Children's Theatre and earned his BA in Theatre Arts with an emphasis in Design and Technology from SDSU. He returned to the Bay Area to work at the Children's Theatre and teach theatre tech at Foothill Community College. Ben has appeared onstage as Lancelot/Tim the Enchanter in Spamalot (VLT), Brad Majors in The Rocky Horror Show, and Jesus in Jesus Christ Superstar (ACE). Ben is happy to have found such a welcoming and thriving theatre scene in the Eugene/Springfield area and here at OCT! Please enjoy the show!
JENNIFER SANDGATHE (Production Stage Manager) is delighted to return for a second season on the staff at Oregon Contemporary Theatre. Recent stage management credits include: Venus in Fur, Blue Door, Melancholy Play, The 39 Steps, The Big Meal, The Revolutionists, and Shrimp & Gritts: She's Gone. She has previously worked as a Stage Management Professional Assistant with Sacramento Music Circus. Jennifer graduated from the University of Oregon with a BA in Theatre Arts and a Business Administration minor.

GARETH WARR (Venue Assistant) has been involved in technical theatre since an early age, including lighting, sound, projection, and props construction for Opera House Arts in Stonington, ME. He worked three years at the Collins Center for the Arts as a student supervisor. Gareth returned to Opera House Arts after graduation to serve as their Assistant Technical Director. Since his relocation to Oregon, he has worked with Oregon Contemporary Theatre and Eugene Ballet.