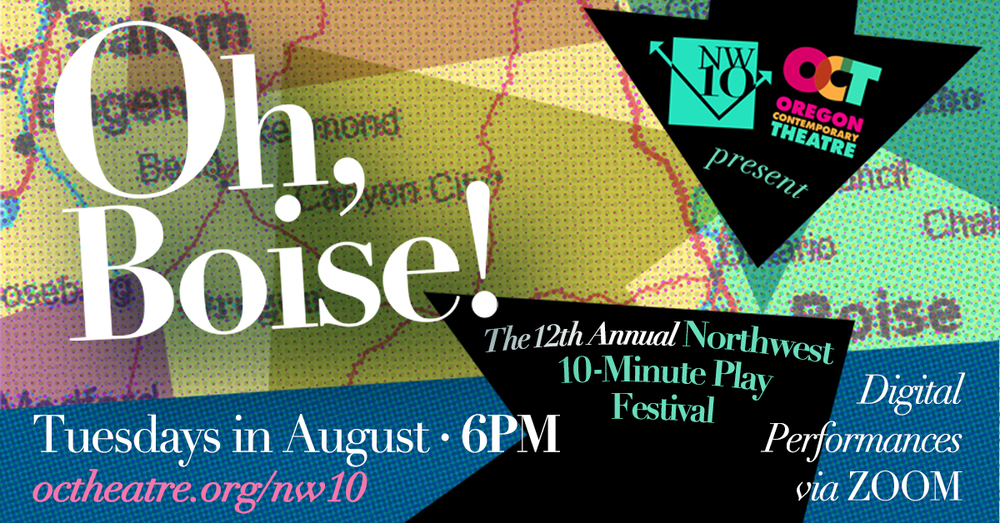 Click here for the Zoom link for the August 18th performance!
Performances of NW10: Oh Boise! are free to watch online, with donations encouraged to support OCTís new play development programming. Give today at octheatre.org/donate.
The Northwest Ten Festival of 10-Minute Plays is going digital! Every Tuesday in August, tune in through Zoom (links will be provided on this page) to watch two plays and engage in post-show discussion. The complete festival will be available on-demand via YouTube August 27th through August 30th.
ďOCT suspended in-person performances just days before the scheduled opening of NW10: Oh, Boise! We are thrilled to share the 2020 NW10 Festival in this new online format. Itís a silver lining that these new plays are accessible to an even broader audience via the internet,Ē says Craig Willis, OCT producing artistic director.
The festival includes the following plays and post-show discussions:
August 4 - Be Batman by Willow McLaughlin, Breath by Nancy West
August 11 - Inevitable by Mindy Roll, Egg in Spoon by Rachael Carnes
August 18 - Chicken Burger with a Side of Awkward by Deborah Chava Singer, The Appointment by Jennifer Chaney
August 25 - A Nip in the Autumn Air by Jeffrey M. Brown, But Who's Counting? by Connie Bennett
Questions? Email NW10Festival@gmail.com.
Read our press release here.