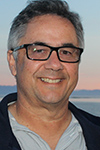 PAUL CALANDRINO (Playwriting)
a Eugene playwright, educator, and actor. In 2009 he founded the Northwest Festival of Ten-Minute Plays with Oregon Contemporary Theatre. He holds an MFA in Playwriting from Goddard College and has led playwriting workshops at OCT since 2011. His full-length works include
My Happy Hour with Pegoda
, the
Shrimp & Gritts
Trilogy and
The Fifth Hypothesis
. Paul's ten-minute plays have been produced coast-to-coast, including
Big Life
, a finalist in the 2011 National Ten-Minute Play Competition.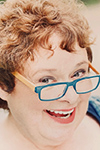 LAVINIA HART (Acting - Michael Checkhov Technique)
recently retired from her position as Associate Professor of Theatre and Head of MFA Acting for Wayne State University. Prior to 20+ years as a teacher of acting and directing for Wayne State University and St. Olaf College, she was the Artistic Director of the Attic Theatre in Detroit for 19 years. Building Detroit's foremost small professional theatre (AEA) included acting, directing and producing more than 100 plays. Lavinia has relocated from Detroit to the Seattle-Tacoma area and is currently teaching acting online with Florida International University. This season, she directed an online performance of
The Curious Incident of the Dog in the Night-Time
for Oakland University. Recent WSU directing credits include
The Winter's Tale
,
As You Like It
,
A Midsummer Night's Dream
and
Cloud Nine
. Other favorite plays directed at Wayne State's Hilberry Theatre include
The Cripple of Inishmaan
,
The Cider House Rules
, (co-directed with Blair Anderson),
A Servant of Two Masters
,
Translations
,
Antony and Cleopatra
and
The Kentucky Cycle
(co-directed with Pat Ansuini). Bonstelle Theatre credits include
To Kill A Mockingbird
,
A Christmas Carol
,
The Crucible
and
Ten November
. Other professional credits include: direction of
Murder on the Nile
(The Meadowbrook Theatre); playing the title role in Kim Carney's world premiere comedy
Maggie Rose
(Performance Network); playing Terry in
The Lady House Blues
(Birmingham Theatre); directing
An Act of God,
starring her daughter, Jaime Moyer (JET); and playing her all-time favorite role of Violet Weston in
August: Osage County
(Hilberry Theatre). Favorite teaching gig: "Acting with Shakespeare and Commedia dell Arte" in Siena, Italy for two summers with Michael Chekhov Technique colleague Kiara Pipino. Lavinia is a founding member of the Great Lakes Michael Chekhov Consortium, representing Wayne State University in conjunction with Kent State University, Case Western University, University of Windsor. The program offers Teaching Certificates in the Michael Chekhov Technique. Hart is a winner of the Council Cargle Award for lifetime achievement, Detroit Free Press Lee Hills Award and was named Michiganian of the Year by the Detroit News Magazine.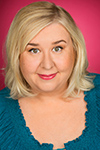 JAIME MOYER (Improv)
is an alum of The Second City-Detroit, currently resides in Los Angeles, CA, and is a member of the acting unions SAG-AFTRA and AEA. She has voiced two characters on
Bob's Burgers
, appears in the new Netflix series
The Big Show Show
and had a recurring role on
Modern Family
. Jaime has also had appearances on
Parks and Recreation
,
2 Broke Girls
,
Jennifer Falls
,
Detroiters
,
Future Man
and Disney's hit show
KC Undercover
. Jaime appeared onstage in
Twist Your Dickens
at The Kennedy Center (Washington, D.C.), Portland Center Stage (Portland, OR) and The Kirk Douglas (L.A.). She has taught improvisation and performed all over the country, including workshops at Washington Improv Theater, Dallas Comedy House, Asheville Improv Collective, The Arcade Theater, Go! Comedy, Dosage Improv Workshops, Unscrewed Theater, The Siren Theater, Planet Ant Theater, Camp Improv Utopia, Angel Comedy in the U.K., ICC Theatre in Denmark and many others. Jaime was awarded the sole prize of Maestro at The Out of Bounds Comedy Festival in Austin, Texas, in 2011. She can be seen performing improv at The Second City Hollywood, Westside Comedy, The Pack and more around Los Angeles, CA. Follow her on Twitter
@Jaime_Moyer
.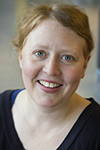 TRICIA RODLEY (Accents)
is an instructor in Theatre Arts at the University of Oregon with a focus on actor training, voice, accents, dramaturgy for actors and new play development. Recent dialect coaching with Oregon Contemporary Theatre includes:
The Curious Incident of the Dog in the Night-Time
,
Miss Bennet: Christmas at Pemberley
and
The 39 Steps
.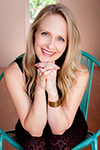 ERICA TOWE (Acting, Improv, Play Reading Club, Storytelling)
has been dressing up in costume and telling stories to her nieces, nephews, friends, dog Charlie Buckets and strangers since she could talk. In addition to being a storyteller, Erica is a theatre artist and event host. She has been acting in the Eugene area for the last eight years, having performed at Oregon Contemporary Theatre, Very Little Theatre and The Shedd. Erica has her BA in Theatre and Communications and MEd from the University of Sioux Falls, which can be found in the expansive state of South Dakota. Over the last 15 years, Erica has taught all ages in the United States and internationally. She has been teaching script analysis and improv classes at OCT since 2017. Erica is an Improvisation for Life™ trainer who leads applied improv workshops and retreats to help people apply the rules of improv comedy to grow confidence, get mindful, and be bold in their work, daily lives, and creative ventures.
https://www.ericatowe.com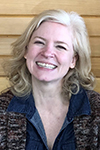 INGA WILSON (Acting, Scene Study, Sip & Play; OCT Education Coordinator)
is delighted to be part of the team at Oregon Contemporary Theatre, where she has been seen onstage in
The Curious Incident of the Dog in the Night-Time
,
The Understudy
,
Silent Sky
,
The Revolutionists
,
The 39 Steps
and
Venus in Fur
. Originally from Minnesota, she received a BFA in theatre performance from Drake University and went on to study at the O'Neill National Theater Institute and Chautauqua Theater Conservatory. Inga is a proud member of Actors Equity Association and SAG/AFTRA, having worked in California, Illinois, Michigan, Minnesota, New York, and Oregon. In addition to acting, Inga enjoys directing and teaching theatre for diverse audiences, as well as being a producer for NW10.