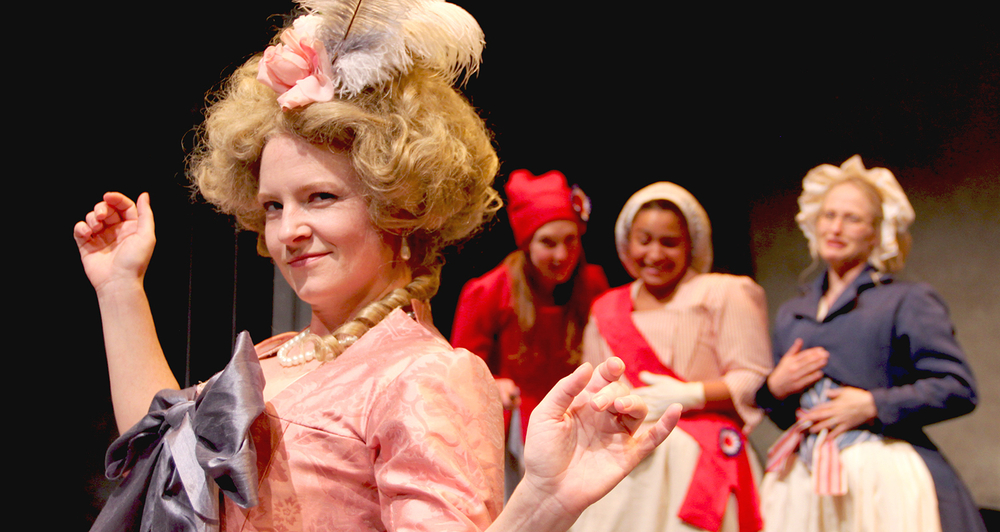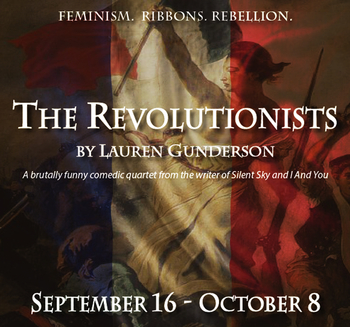 September 16 - October 8, 2016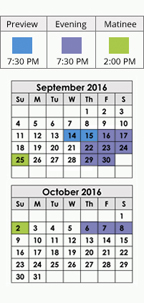 A brutally funny comedic quartet about four very real women who lived and died boldly during the French Revolution's Reign of Terror. Playwright Olympe De Gouge, assassin Charlotte Corday, Haitian rebel Marianne Angelle, and former queen (and fan of ribbon) Marie Antoinette hang out, plot murder, lose their heads, and try to beat back extremist insanity in revolutionary Paris.
This grand comedic fantasia—from the author of I and You and Silent Sky—is about violence and legacy, feminism and terrorism, art and how we actually go about changing the world.
"A sassy, hold-on-to-your-seats theatrical adventure" —Cincinatti.com
"It's simply a brilliant script."—CityBeat.com
TALK-BACK GUESTS
Sunday, September 25: Julie Voelker-Morris & Anna Grace
Sunday, October 3: Alexander Dracobly & Betsy Tanenbaum

Click here for more information on our Talk-back Guests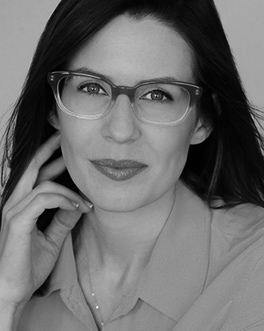 LAUREN GUNDERSON (Playwright) is one of the most produced playwrights in America, the winner of the Lanford Wilson Award and the Steinberg/ATCA New Play Award, a finalist for the Susan Smith Blackburn Prize and John Gassner Award for Playwriting, and a recipient of the Mellon Foundation's 3-Year Residency with Marin Theatre Co. She studied Southern Literature and Drama at Emory University, and Dramatic Writing at NYU's Tisch School where she was a Reynolds Fellow in Social Entrepreneurship. Gunderson's work has been commissioned, produced and developed at companies across the nation, including: South Coast Rep (Emilie, Silent Sky); The Kennedy Center (The Amazing Adventures of Dr. Wonderful And Her Dog!); The O'Neill; The Denver Center; Berkeley Rep; Shotgun Players; TheatreWorks; Crowded Fire; San Francisco Playhouse; Marin Theatre; Synchronicity; Olney Theatre; Geva; and more. She is a Playwright in Residence at The Playwrights Foundation and a proud Dramatists Guild member. Gunderson is from Atlanta, GA, and lives in San Francisco.
ELIZABETH HELMAN (Director) received her B.A. in Theatre and English (Creative Writing) at Santa Clara University and earned her M.A. and Ph.D. in Theatre Arts at University of Oregon. She is the Theatre Arts coordinator at Oregon State University, where she teaches a variety of courses in history, literature, performance, directing, and playwriting. Elizabeth has directed A Christmas Carol, The Great Gatsby, and Silent Sky for Oregon Contemporary Theatre. Some of her varied theatrical work includes: devising The Blazing World Inside, commissioned by the Margaret Cavendish Society; playing Rachel Corie in My Name is Rachel Corie; and directing Suzan-Lori Park's Topdog/Underdog for the St. Louis Actors' Studio. Other favorite directing credits include: Arcadia, The Importance of Being Earnest, Comedy of Errors, A Bright Room Called Day, Twelfth Night, Three Sisters, Macbeth, After the Fall, A Midsummer Night's Dream, The Diary of Anne Frank, Love's Labour's Lost, All in the Timing, A Thread in the Dark, and Rosencrantz and Guildenstern Are Dead. Elizabeth serves on the play selection committee for the LaBute New Theater Festival in St. Louis, MO. Thanks to Craig, Tara, Geno, Gabe, Bradley, Jeanette, Kat, Amy, Justin, Mary, and Jennifer for the opportunity and all the work in bringing this wild feminist dream-fugue to life. Thank you to this incredibly gifted and feisty cast! Always, deepest love and gratitude to Matty. (Hugs and woof to Hermione, even though she can't read.)

JANELLE RAE DAVIS (Marianne Angelle) is entering her last year at Western Oregon University studying to receive her B.F.A. in acting and a minor in American Sign Language. This is her first appearance at Oregon Contemporary Theatre. Select roles at Western Oregon include: Ruth in Book of Days, Fraulien Schneider in Cabaret, Guidarius in Cymbeline, and Titania in A Midsummer Night's Dream. She hopes to teach deaf children and start theatre programs for the d/Deaf and Hard of Hearing in communities in the Pacific Northwest.

HAILEY HENDERSON (Charlotte Corday) moved to Eugene almost 3 years ago and jumped into the vibrant theatre community here. She grew up in Moab, UT, and graduated from Westminster College in Salt Lake City with her B.F.A. in Performance Theatre. Hailey's local credits include: Vanya and Sonia and Masha and Spike (OCT); "What it Feels Like to Feel Hungry" (NW10 Festival); Lost in Yonkers, A Funny Thing Happened on the way to the Forum, Private Eyes, Leader of the Pack (VLT); Babes in Arms (The Shedd Institute); and Much Ado About Nothing (Roving Park Players).

ERICA TOWE (Olympe de Gouges) is an actor and high school English teacher with the Springfield Public School District. She was last seen on stage/warehouse in Warrior Poet's production of Trojan Women. Past appearances at Oregon Contemporary Theatre include: Blackberry Winter, Silent Sky, Who's Afraid of Virginia Woolf? and A Christmas Carol. Erica has also worked at The Very Little Theater in Eugene. She is most grateful to Liz and Craig for the opportunity to be a part of this important story and to be a voice for Olympe De Gouges -- a women who was an early champion for justice, equality, and freedom for everyone. In a time when so many people continue to fight for these issues, it is important that we gather together, share stories, and inspire one another to fight for equality for all.
INGA R. WILSON (Marie Antoinette) is tickled pink to be back at Oregon Contemporary Theatre after making her OCT debut in Silent Sky last season. Originally from Minnesota, she received her B.F.A. in Theatre Performance from Drake University and went on to study at the O'Neill National Theater Institute and Chautauqua Theater Conservatory. Inga is a proud member of Actors Equity Association and SAG/AFTRA, having worked professionally in California, Illinois, Michigan, Minnesota, New York and Oregon. In addition to acting, Inga served as Artistic Director with Planet Ant Theatre and has passionately taught acting and theatre to diverse audiences for over 20 years. Thank you for supporting the arts!
BRADLEY BRANAM (Sound Designer) is the Technical Director and Media Designer for the University Oregon Theatre Arts Department. Bradley has served as the Resident Designer and Technical Director for the Lynchburg Fine Arts Center. He also worked with the Ash Lawn Opera Festival as the Production Manager and Technical Director. Other credits include work with: Denver Center Theatre Company, Kansas City Repertory Theatre Company, Commonweal Theatre Company, and The Old Creamery Theatre Company. Bradley received his B.A. in theatre from Luther College, in Decorah, IA, and his M.F.A. from the University of Missouri Kansas City.
GABE CARLIN (Properties Master; Sound Engineer) joined the Oregon Contemporary Theatre staff after graduating from the University of Oregon with his undergraduate degree in Theatre Arts, focusing in sound and lighting design. He served as Technical Director for the Pocket Playhouse and designed numerous shows in both the Pocket and on the University's main stages. Gabe's previous OCT credits include lighting design for Who's Afraid of Virginia Woolf?, properties for A Christmas Carol and Silent Sky, and sound design for Stupid Fucking Bird, Lucky Me and The Last Five Years, and Blackberry Winter.
JEANETTE DEJONG (Costume Designer) has designed costumes for theatres across the nation including Cincinnati Playhouse in the Park, Seattle Children's Theatre, Actors Theatre of Louisville, Indiana Repertory Theatre, Williamstown Theatre Festival, San Antonio Opera Festival, Brown University Summer Theatre, The Village Theatre, and Merrimack Repertory Theatre since receiving her M.F.A. at the University of Oregon. Jeanette is a past recipient of an Indiana Arts Commission Master Artist Fellowship, and she is a member of United Scenic Artists, Local 829, New York, NY. Locally, she has also designed for Eugene Opera and the University of Oregon Theatre department. Her recent costume designs for Oregon Contemporary Theatre include: Dontrell, Who Kissed the Sea; A Christmas Carol; Becky's New Car; Ordinary Days; The Great Gatsby; and I and You. Jeanette is currently the Assistant Professor of Costume Design at the University of Oregon.
GENO FRANCO (Scenic Designer; Production & Facilities Manager) has held production management positions with Steppenwolf Theatre, The Hypocrites, The Raven Theatre, and The New Colony, among others. This is his first scenic design with Oregon Contemporary Theatre. Geno has also been a scenic artist at various companies such as Oregon Shakespeare Festival, Portland Center Stage, Utah Shakespeare Festival, Cincinnati Playhouse, and South Coast Repertory. He is passionate about sports and the arts and the similarities between them. Check out his website, which is dedicated to entertaining and inspiring stories about Sports and the Arts at spartsdom.com. Geno is a proud graduate of the Pacific Conservatory Theatre (PCPA).
KAT MATTHEWS (Lighting Designer)is very excited to work with Oregon Contemporary Theatre for the first time. They are a second year M.F.A. student at University of Oregon with a concentration in lighting design. Kat received their B.A. in Theatre from the College of Charleston in South Carolina.
JENNIFER SANDGATHE (Production Stage Manager) is delighted to join the staff at Oregon Contemporary Theatre this season. Recently, stage management credits include: Shrimp & Gritts: She's Gone, Blackberry Winter (OCT); and Funny Face (The Shedd). She has previously worked as a Stage Management Professional Assistant with Sacramento Music Circus. Jennifer graduated from the University of Oregon with a B.A. in Theatre Arts and a Business Administration minor, where she stage managed shows such as Pride & Prejudice, Landscape of the Body, and Breaking the Code.