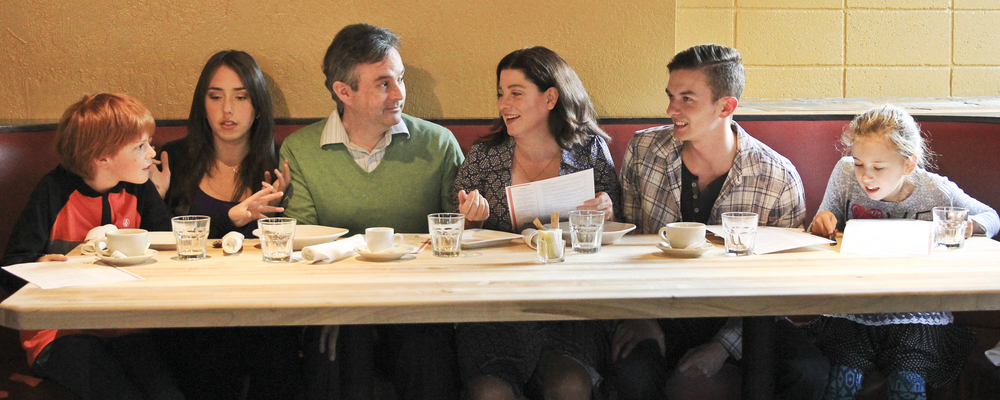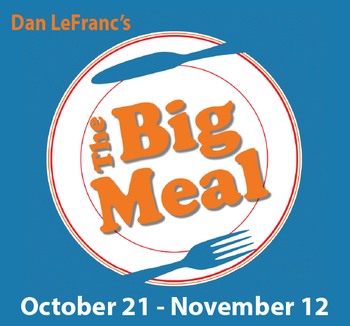 October 21 - November 12, 2016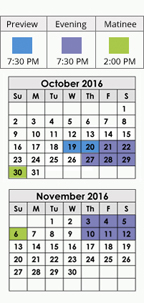 Somewhere in America, in a typical suburban restaurant on a typical night, Sam and Nicole first meet. Sparks fly. And so begins an expansive tale traversing five generations of a modern family, from first kiss to final goodbye. A theatrically inventive and beautiful play about the love, trials, and resilience of families.
The Big Meal is big-hearted, funny, stunningly ambitious and richly satisfying. Reservations recommended!
"Packed with humanity and humor, The Big Meal dishes up laughs and tears." —The New York Daily News
"A life-in-overdrive comic drama...Dan LeFranc's snappy dialogue captures the tumultuous tenor of family gatherings."—The New York Times

TALK-BACK GUESTS
Sunday, November 6: Dr. Jeffrey Measelle, Associate Professor of Psychology at UO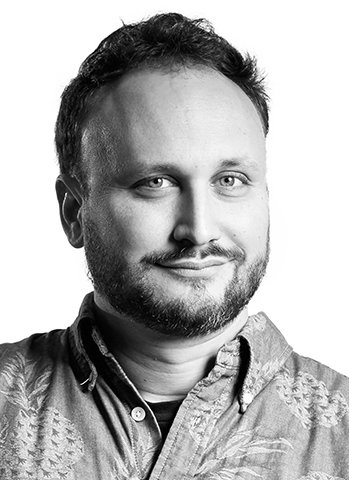 DAN LeFRANC (Playwright) received the 2010 New York Times Outstanding Playwright Award for Sixty Miles to Silver Lake, premiered by Page 73 Productions and Soho Rep. His play The Big Meal received its world premiere at American Theatre Company in Chicago, where it was declared the "#1 Play of 2011" by Time Out Chicago and garnered five Joseph Jefferson Award nominations and a Drama Desk nomination. LeFranc's most recent play, Troublemaker or The Freakin Kick-A Adventures of Bradley Boatright, recently premiered at Berkeley Repertory Theatre. Dan's other plays include: Backyard; Bruise Easy; Catgut; The Fishbone Fables; In the Labyrinth; Kill the Keepers; Night Surf; and Origin Story. He is currently working on commissions for Yale Rep, South Coast Rep, and Playwrights Horizons. LeFranc has been recognized with the Helen Merrill Award and the Whitfield Cook Award, plus a Djerassi Resident Artists Program Fellowship, a John C. Russell Fellowship, and two MacDowell Colony/Alpert Foundation Residencies. He is a member of the MCC Playwrights Coalition and New Dramatists, and a former member of the Soho Rep Writer/Director Lab. A graduate of the MFA playwriting program at Brown University, LeFranc served as head playwriting instructor for the Brown/Trinity Rep Consortium and visiting faculty at Brown, SUNY Purchase, and Yale University, among others. Born and raised in southern California, LeFranc is currently the Playwright-In-Residence at Playwrights Horizons.
BRIAN HAIMBACH (Director) is thrilled to be directing again at Oregon Contemporary Theatre. His past OCT directing credits include: Shrimp & Gritts: She's Gone, Becky's New Car, and Who Am I This Time? (and other conundrums of love). He is the head of the theatre program at Lane where he eagerly anticipates creating a devised performance piece based on The Oresteia to be presented in April. Brian earned a Ph.D. in theatre with a specialization in directing and new play development from the University of Georgia. Last winter, he sang the role of Harvey Milk in the oratorio I Am Harvey Milk with the Portland Gay Men's Chorus. Brian also appeared onstage as Dan in OCT's production of Next to Normal. As a director and producer, he has worked on world premiere productions and/or readings of plays by Lee Blessing, Arlene Hutton, Caridad Svich, and Catherine Trieschmann. Professionally, he has spent time with Touchstone Theatre, Chicago Dramatists, the O'Neill Playwrights Conference, and the Great Plains Theatre Conference, and he has been featured in American Theatre Magazine. Next summer, Brian will take his one-person show, How to be a Sissy, to the Edinburgh Fringe Festival.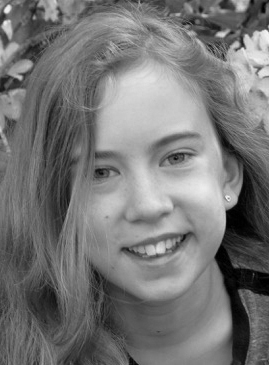 NOA ABLOW MEASELLE (Girl) is delighted to be making her debut with Oregon Contemporary Theatre. A seventh grader at Roosevelt Middle School, Noa has previously appeared on stages around Eugene. Previous roles include: Scout in To Kill a Mockingbird (Very Little Theatre); Tessie in Annie, Dormouse in Through the Looking Glass (Actors Cabaret); Chip in Beauty and the Beast (RoseChildren's Theater); Marta in The Sound of Music (Upstart Crow); and in Oliver! (The Shedd). Noa thanks the talented cast and producers of The Big Meal. She is especially grateful to Brian for his guidance, and for the opportunity to play the Girl. Noa also thanks her family and friends for their continuous love and support.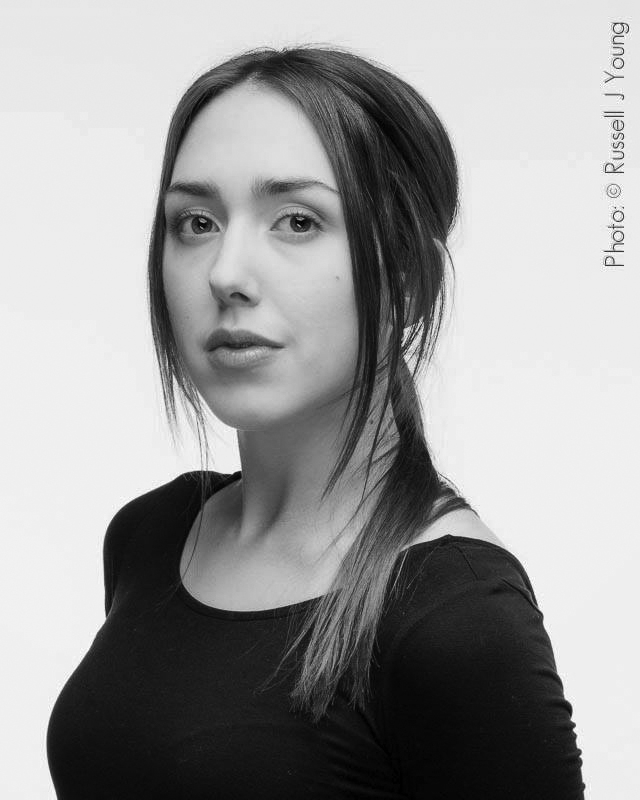 JERILYN ARMSTRONG (Woman 3) is thrilled to appear in her first Oregon Contemporary Theatre production. She is finishing her senior year at the University of Oregon, majoring in General Social Science and minoring in both Theatre Arts and Economics. She has appeared in several University Theatre productions, including: Nawal in Scorched, Elizabeth Bennet in Pride and Prejudice, Pebble/Ensemble member in Ecstasy: A Water Fable, and Jenna in Hello, Stranger! Upon graduation, she will continue to pursue her acting career. She hopes you enjoy tonight's show, and feel just as part of The Big Meal family as she does.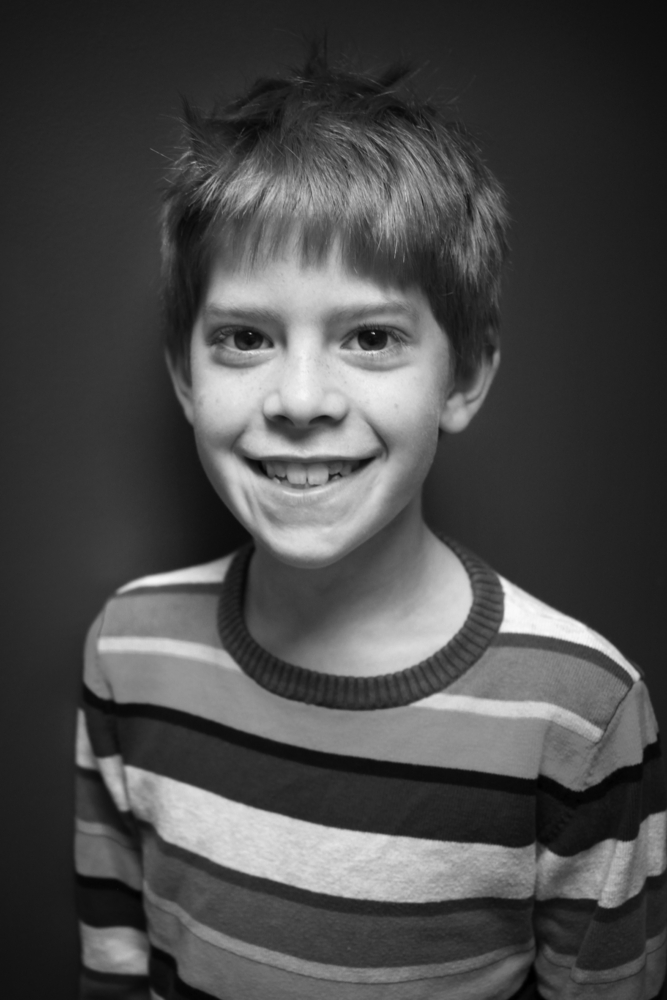 HUGH BRINKLEY (Boy) is delighted to return to OregonContemporary Theatre, after two years running as Tiny Tim in A Christmas Carol. Recently seen as Mowgli in Rose Childrens Theatre's Jungle Book, Hugh is a fifth grader at Charlemagne Fox Hollow School. When he's not performing, Hugh enjoys drawing and his dogs. He wants to thank the cast and crew for this opportunity.

ELLEN CHACE (Woman 1) has been a part of many Oregon Contemporary Theatre productions over the last decade, first appearing in Frozen in the old theatre on Charnelton, and seen most recently in last season's Rapture, Blister, Burn. She has also performed at VLT, Cottage Theatre, and University Theatre. Ellen has been actively engaged in the Northwest 10 Festival of Ten-Minute Plays, participating in various years as a writer, actor, and director. She appreciates OCT's commitment to producing plays that are out-of-the-ordinary, and challenging both for actors and for Eugene's wonderful theatre-loving patrons. She dedicates her work in this play to a former teacher and friend who recently passed away, a man who inspired her lifelong journey into the art of theatre: Dennis Catrell. He will be well remembered and very missed.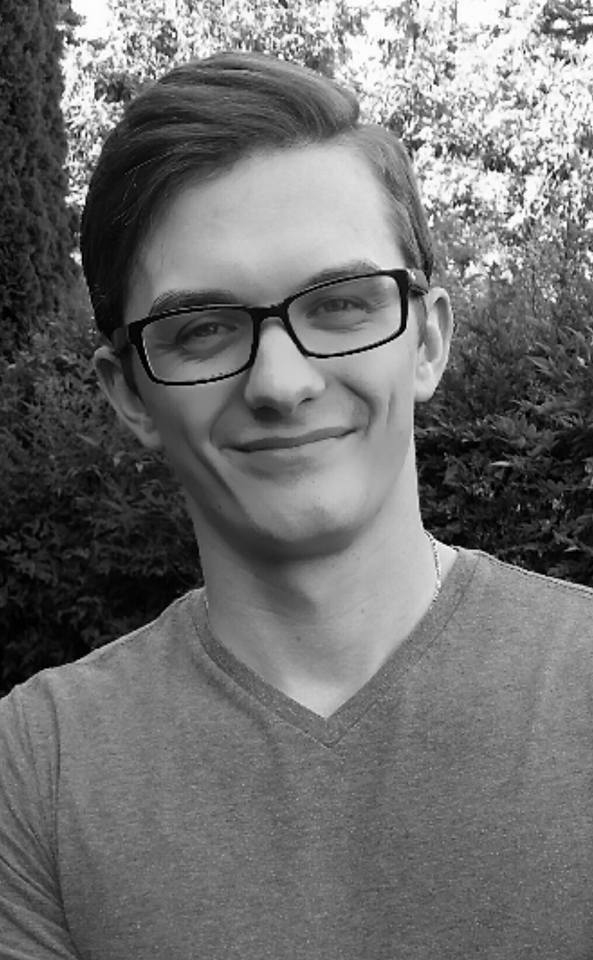 JOSHUA CUMMINS (Man 3) is thrilled to be making his debut at Oregon Contemporary Theatre. Originally from Texas, Joshua did his undergraduate studies in Theatre Performance and Psychology at the University of Texas-Arlington. He is currently working on his Masters in Arts Management at the University of Oregon. Since moving to Eugene, he has enjoyed getting involved with the wonderful theatre community in town and getting to know the professionals in the area. Recent credits include: You Can't Take It With You (VLT); Merry Wives of Windsor (Roving Park Players); "Paper is Dope" (NW10 Festival); Goodnight Desdemona, Good Morning Juliet, and Ah, Wilderness! (Maverick Theatre Company). Thanks to Brian, his fantastic cast and crew mates, and the lovely team at OCT for the opportunity to be a part of this production. And thanks to you, the audience, for supporting the arts!

RUSSELL DYBALL (Man 2) has previously been seen at Oregon Contemporary Theatre in such productions as A Bright New Boise, God of Carnage, and Vanya and Sonia and Masha and Spike, among others. Russell is also the author of several plays, including three which have been produced as part of the Northwest 10 Festival here at OCT. Offstage, Russell works for a media company where he has worked on hundreds of DVD and Blu-ray releases. In his capacity as "Pop Culture Historian," he has contributed commentary tracks to the official releases of the cult films Treasure of the Four Crowns and The Gong Show Movie as well as the television series Cop Rock. He is not a strong swimmer.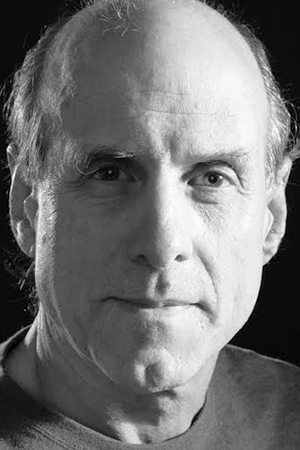 ROBERT HIRSH (Man 1) most recently appeared at Oregon Contemporary Theatre as Ebenezer Scrooge in A Christmas Carol (2014 & 2015); he also previously appeared as Russ/Dan in Clybourne Park and as Werner Heisenberg in Copenhagen. He is founding Artistic Director of Willamette STAGE Company in Corvallis. For wSc, Robert has appeared in: My Fair Lady, Rabbit Hole, Blackbird, The Retreat from Moscow, Heroes, The Goat, A Delicate Balance, Frozen, Honour, A Christmas Carol, 'Art,' The Play's the Thing, It's a Wonderful Life, and God of Carnage. Directorial work for wSc includes: A Walk in the Woods, Skyscraper, Collected Stories, Heroes, Love Song, and Boston Marriage. Other favorite roles include: Malvolio in Twelfth Night, Jack in The Importance of Being Earnest, Shylock in The Merchant of Venice, James Tyrone, Sr. in Long Day's Journey into Night, Henry Drummond in Inherit the Wind, Matt Friedman in Talley's Folly, and Macbeth in Macbeth. Robert began his professional life as a political scientist, received his theatre training at the University of Oregon, and has appeared in dozens of industrial films and commercials in the northwest.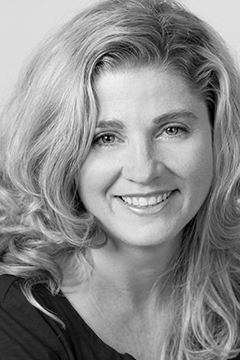 KARI WELCH (Woman 2) is appearing in her third show at Oregon Contemporary Theatre, previously taking the stage for Rapture, Blister, Burn and A Bright New Boise. This past summer, she played Penny in You Can't Take It With You at The Very Little Theater. She has appeared on stages in Milwaukee and Seattle and toured educational theater dealing with issues of racism and prejudice, as well as sexual abuse. Kari holds a B.A. in theater and dance from the University of Wisconsin - Stevens Point and currently resides in Eugene with her husband, two sons, and a pug named Google.
GABE CARLIN (Sound Designer; Sound Engineer) joined the Oregon Contemporary Theatre staff after graduating from the University of Oregon with his undergraduate degree in Theatre Arts, focusing in sound and lighting design. He served as Technical Director for the Pocket Playhouse and designed numerous shows in the Pocket Playhouse and on the University's main stages. Gabe's OCT credits include: sound design for Shrimp & Gritts: She's Gone, Vanya and Sonia and Masha and Spike, Blackberry Winter, The Last Five Years, Stupid F*cking Bird, and Lucky Me; lighting design for Who's Afraid of Virginia Woolf?; and properties for The Revolutionists, A Christmas Carol, and Silent Sky.
TIM DUNN (Properties Master) is returning for his second show as Properties Master, and has been associated with Oregon Contemporary Theatre since 2007. After volunteering to help build and paint the set for The Pillowman, he became a set carpenter and scenic artist for OCT until 2015. Tim began his career in theatre at the University of Oregon while finishing his B.A. in History.
STEEN V. MITCHELL (Scenic Designer) appreciates having the opportunity once again to work with a talented production team at Oregon Contemporary Theatre. She has designed scenery for more than 20 shows at OCT between 2004-2016, including: Silent Sky, Who's Afraid of Virginia Woolf?, The Great Gatsby, Fahrenheit 451, Endgame, The Four of Us, Frozen, West Moon Street, and Mother Courage. She worked as a visiting designer at the University of Wisconsin - La Crosse in Fall 2013 and designed the set for the University of Oregon's I Ain't Yo Uncle in 2012. Steen has also designed for: Eugene Ballet (puppets), Eugene Opera (props), and Lane Summer Musical Theatre (sets, including Singin' in the Rain). She gives very special thanks to Janet Rose for mentoring theatre students, and to Sue Dockstader for her love and support.
MICHAEL A. PETERSON (Lighting Designer) returns to Oregon Contemporary Theatre to design his first show for the 2016/2017 season. Previously, he designed the lighting for Silent Sky, The Last Five Years, A Christmas Carol, The Great Gatsby, and Next to Normal. Other companies that Michael has designed for include: American Players Theatre, National Tour of City of Angels as a lighting design assistant, Valley Music Festival - Solvang, CA (David Crosby & CPR, Michael McDonald & Christopher Cross), Solvang Country Music Festival (Suzy Boggus, Desert Rose Band, Zaca Creek), Eugene Ballet, Eugene Concert Choir, Eugene Opera, Eugene Symphony, New Hope Christian College, Northwest Christian University, Oregon Bach Festival, PCPA Theaterfest, Skylight Opera, UO School of Music/Opera Department, Willamette Repertory Theatre, Willamette University, Diablo Valley College, Allan Hancock College Dance Department, The Music Academy of the West, San Jose Rep, and S.B.C.L.O.
JENNIFER SANDGATHE (Production Stage Manager) is delighted to join the staff at Oregon Contemporary Theatre this season. Recent stage management credits include: The Revolutionists, Shrimp & Gritts: She's Gone, Blackberry Winter (OCT); and Funny Face (The Shedd). She has previously worked as a Stage Management Professional Assistant with Sacramento Music Circus. Jennifer graduated from the University of Oregon with a B.A. in Theatre Arts and a Business Administration minor, where she stage managed shows such as Pride & Prejudice, Landscape of the Body, and Breaking the Code.
SHELBI WILKIN (Costume Designer) is a second-year M.F.A. candidate in Costume Design and Graduate Teaching Fellow at the University of Oregon. She graduated from Central Washington University with a B.F.A. in Design and Technology, specializing in costume design and construction. Shelbi is currently working as a draper the University of Oregon, as well as teaching makeup workshops at Willamalane Community Center. She specializes in cultural and historical design. Shelbi most recently was the costume, wig, and makeup designer for University Theater's production of Scorched. Other production credits include: The Marriage of Figaro, Polaroid Stories, and The Crossing. Shelbi will be designing University Theater's productions of Emperor of the Moon and Mr. Burns in the upcoming season. In her spare time, Shelbi enjoys backpacking with her husband, playing trivia, and exploring all the wonders Oregon has to offer, especially its exquisite wineries.