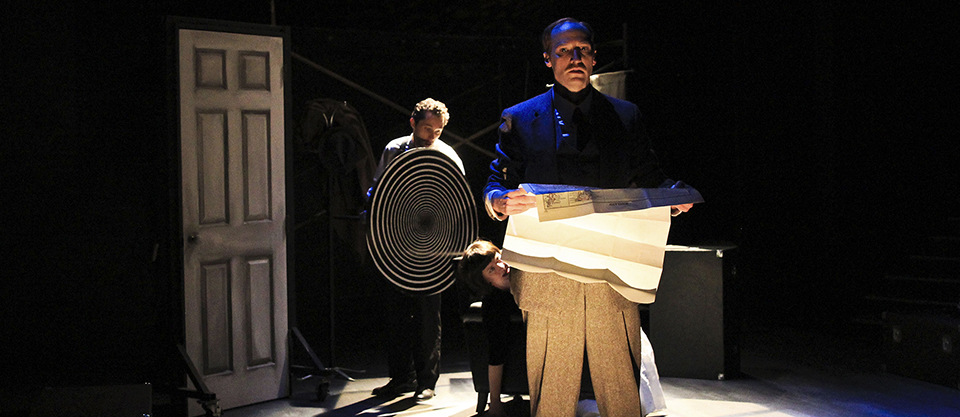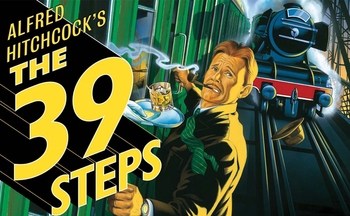 January 13 - February 4, 2017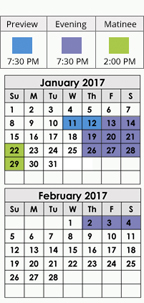 Adapted from the novel by John Buchan and film by Alfred Hitchcock
Mix a Hitchcock masterpiece with a juicy spy novel, add a dash of Monty Python and you have The 39 Steps, a fast-paced whodunit for anyone who loves the magic of theatre! This two-time Tony and Drama Desk Award-winning treat is packed with nonstop laughs, over 150 zany characters (played by a cast of four), an on-stage plane crash, handcuffs, missing fingers and some good old-fashioned romance! It's great fun for everyone from 9 to 99.
"The 39 Steps remains a gallant and giggly ode to make-do resourcefulness, to the air of spinning illusions out of nothing but a clown's talents." —The New York Times
Produced in conjunction with Eugene Public Library as part of The Big Read, a program of the NEA and Arts Midwest.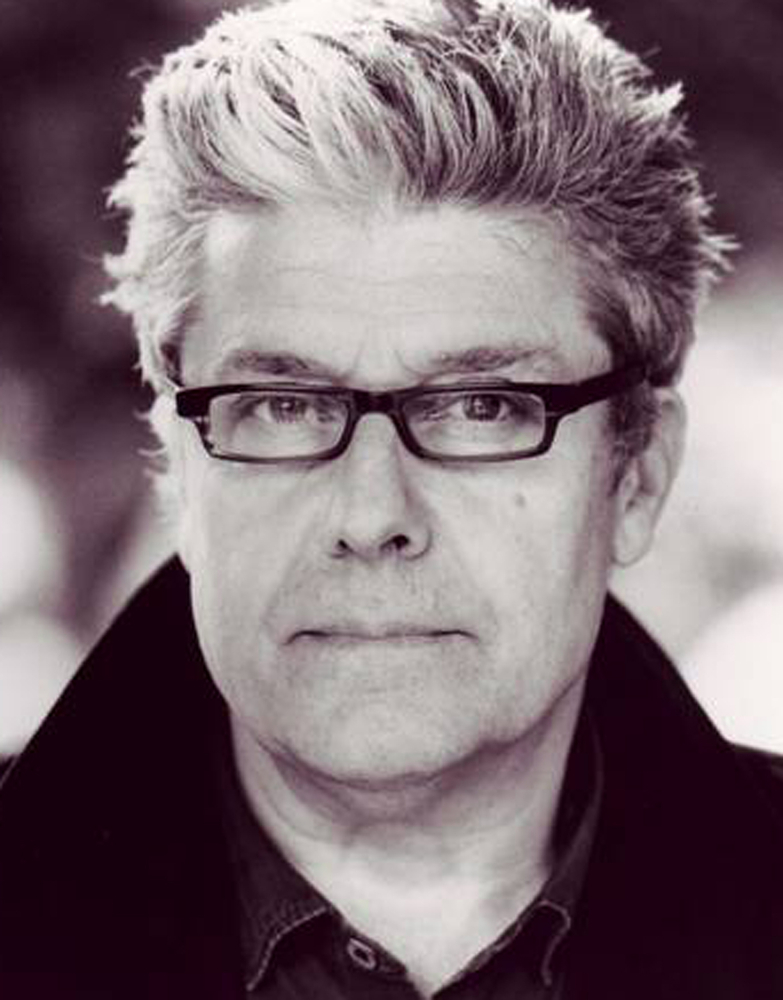 PATRICK BARLOW (Playwright) is renowned for his four-person adaptation of The 39 Steps, which has played in over forty countries worldwide. It has won Olivier, Helpmann,Moliere and Tony Awards and made Barlow the most performed playwright in America in 2012. Barlow is celebrated in the UK for his award-winning, two-man theatre company National Theatre of Brent, whose comedy epics include Wagner's Ring Cycle, The Charles and Diana Story, The Messiah, The Wonder of Sex, The Arts and How They Was Done, The Black Hole of Calcutta, The Life and Times of the Dalai Lama, and Zulu! Barlow's screenwriting credits include: Van Gogh (Prix Futura Berlin Film Festival), Revolution! (Best Comedy Jerusalem Film Festival), and the BAFTA-winning Young Visiters. He has also appeared in Absolutely Fabulous, Shakespeare in Love, Notting Hill, Nanny McPhee, and Bridget Jones' Diary.
JOHN SCHMOR (Director) teaches and directs plays at the University of Oregon, where he is unspeakably happy to be concluding his fourth and final term as Department Head. For UO, he most recently directed a student-devised work about science in our lives, entitled Wonder If Wonder Why, which toured to schools along the southern Oregon coast in September. John also recently directed You Can't Take It With You for The Very Little Theatre this past summer. In addition to directing, John has adapted for stage Virginia Woolf's last novel, Between the Acts, Ursula K. LeGuin's classic The Left Hand of Darkness (for Portland Playhouse and Hand2Mouth theatre companies), and several re-workings from Shakespeare, including his mash-up of sonnets, Love Will Shake, and for Oregon Contemporary Theatre, A Winter's Tale, Or Not To Be (a zombie- Hamlet), and The Tempest.

COLIN LAW (Clown 1) is excited to continue his residency at Oregon Contemporary Theatre with this fast-paced thriller, having recently appeared as Crumpet the Elf in The Santaland Diaries. Currently based in Chicago, Colin is very grateful to have the opportunity to come back to Eugene and perform with this great company. He recently finished the Acting Apprentice Program at American Players Theatre in Wisconsin. Other recent credits: Longaville (Love's Labors Lost), Duke of Aumerle (Richard II), Hero (Much Ado) at Illinois Shakespeare Festival; Billy (Tribes) at Heartland Theatre Co.; Dr. Givings (In the Next Room), Puck (Midsummer), Melchior (Spring Awakening) at ISU. Training: B.A. Theatre Arts, University of Oregon; M.F.A. Acting, Illinois State University. He sends many thanks to everyone at OCT for this opportunity!

REESE MADDEN (Clown 2) is over the moon to be acting in The 39 Steps, his first production at Oregon Contemporary Theatre. Reese has been active in local theater in Eugene for three years. He is a student at LCC and has worked on many productions there. In the summer months, Reese has enjoyed performing with Free Shakespeare In The Park, most recently appearing as Byrone in Love's Labours Lost. He would like to express gratitude to Judy Roberts and Brian Haimbach for their instruction and support.

INGA R. WILSON (Annabella/Pamela/Margaret) is absolutely delighted to be back working with the fine folk at Oregon Contemporary Theatre after recent roles in The Revolutionists and last season's Silent Sky. Originally from Minnesota, she received a B.F.A. in Theatre Performance from Drake University and went on to study at the O'Neill National Theater Institute and Chautauqua Theater Conservatory. Inga is a proud member of Actors Equity Association and SAG/AFTRA, having worked professionally in California, Illinois, Michigan, Minnesota, New York, and Oregon. In addition to acting, Inga served as Artistic Director with Planet Ant Theatre in Hamtramck, MI, and has passionately taught acting and theatre to diverse audiences for over 20 years. Thank you for coming and supporting the arts!

TOM WILSON (Hannay) is excited to once again play at Oregon Contemporary Theatre, having last appeared as Wilson in The Great Gatsby. Tom was last seen onstage as Fagin in Oliver! at the Shedd. Select past roles include Bert in Mary Poppins (The Shedd); Clov in Endgame (OCT); Pseudolus in A Funny Thing Happened on the Way to the Forum, and Freddie Benson in Dirty Rotten Scoundrels (VLT). Tom has also participated in numerous Northwest 10 Festivals--including directing a piece in 2016--and he has appeared in several short films and industrials. Tom can be seen in Magical Moombah!, a kids variety show at the Shedd throughout the year. Love always to Monkey, Stella, Ruby, and his loving wife, Holly.
GABE CARLIN (Sound Designer; Sound Engineer) joined the Oregon Contemporary Theatre staff after graduating from the University of Oregon with his undergraduate degree in Theatre Arts, focusing in sound and lighting design. He served as Technical Director for the Pocket Playhouse and designed numerous shows in the Pocket Playhouse and on the University's main stages. Gabe's OCT credits include: sound design for The Santaland Diaries, The Big Meal, Shrimp & Gritts: She's Gone, Vanya and Sonia and Masha and Spike, Blackberry Winter, The Last Five Years, Stupid Fucking Bird, and Lucky Me; lighting design for Who's Afraid of Virginia Woolf?; and properties for The Revolutionists, A Christmas Carol, and Silent Sky.
MARGOT GLASER (Properties Master) is excited to be working for the first time at Oregon Contemporary Theatre. She recently received her M.F.A. in Scenic Design from the University of Oregon. Her credits while at UO include: scenic design for Wonder If Wonder Why, Comedy of Errors, Ecstasy: A Water Fable; scenic and projection design for Water By the Spoonful; prop master for Pride and Prejudice; and puppet design for Sila: an Arctic Tale. Previously, she worked as the prop master for the Trinity Shakespeare Festival in Ft. Worth, Texas.
MICHAEL A. PETERSON (Lighting Designer) is returns to Oregon Contemporary Theatre to design his second show of the 2016/17 season. Previously, he has designed the lighting for: The Big Meal, Silent Sky, The Last Five Years, A Christmas Carol, The Great Gatsby, and Next to Normal. Other companies that Michael has designed for include: American Players Theatre, National Tour of City of Angels as a lighting design assistant, Valley Music Festival - Solvang, CA (David Crosby & CPR, Michael McDonald & Christopher Cross), Solvang Country Music Festival (Suzy Boggus, Desert Rose Band, Zaca Creek), Eugene Ballet, Eugene Concert Choir, Eugene Opera, Eugene Symphony, New Hope Christian College, Northwest Christian University, Oregon Bach Festival, PCPA Theaterfest, Skylight Opera, U of O – School of Music/Opera Department, Willamette Repertory Theatre, Willamette University, Diablo Valley College, Allan Hancock College Dance Department, The Music Academy of the West, San Jose Rep, and S.B.C.L.O..
TRICIA RODLEY (Dialect Coach) s an instructor in Theater Arts at UO with a focus on actor training. Recent dialect projects with University Theatre include: James Joyce's The Dead, Stage Kiss, Water by the Spoonful, and Arcadia. Also with UT, she will direct Mr. Burns in the spring and has previously directed The School for Lies and Creature. Before returning to UO to earn her Ph.D., Tricia lived and worked in New York, received an M.A. in Classical Acting from The Central School of Speech and Drama in London, and co-founded Printer's Devil Theatre in Seattle.
JENNIFER SANDGATHE (Production Stage Manager) is delighted to join the staff at Oregon Contemporary Theatre this season. Recently, she stage managed: The Big Meal, The Revolutionists, Shrimp & Gritts: She's Gone (OCT); and Funny Face (The Shedd). She has previously worked as a Stage Management Professional Assistant with Sacramento Music Circus. Jennifer graduated from the University of Oregon with a B.A. in Theatre Arts and a Business Administration minor, where she stage managed shows such as Pride & Prejudice, Landscape of the Body, and Breaking the Code.
MICHAEL WALKER (Scenic Designer) worked as a carpenter building sets last season for Oregon Contemporary Theatre, as well as performing in Rapture, Blister, Burn and serving as scenic designer for Stupid Fucking Bird. He also designed sets for Spamalot, You Can't Take It with You (in which he played the role of Paul Sycamore), and Juno and the Paycock (which he also directed) at the VLT. Michael is currently employed as the Scene Shop Supervisor for University Theatre.
ERIN WILLS (Costume Designer) graduated from the University of Oregon and also attended the North Carolina School of the Arts, where she studied costume technology. Her most recent work at Oregon Contemporary Theatre includes Vanya and Sonia and Masha and Spike, Lucky Me, Clybourne Park, A Bright New Boise, Tribes, Next to Normal and Fahrenheit 451. She has previously worked at the Old Globe Theatre, Georgia Shakespeare Festival, North Carolina Shakespeare Festival, New York City Center and Broadway productions.