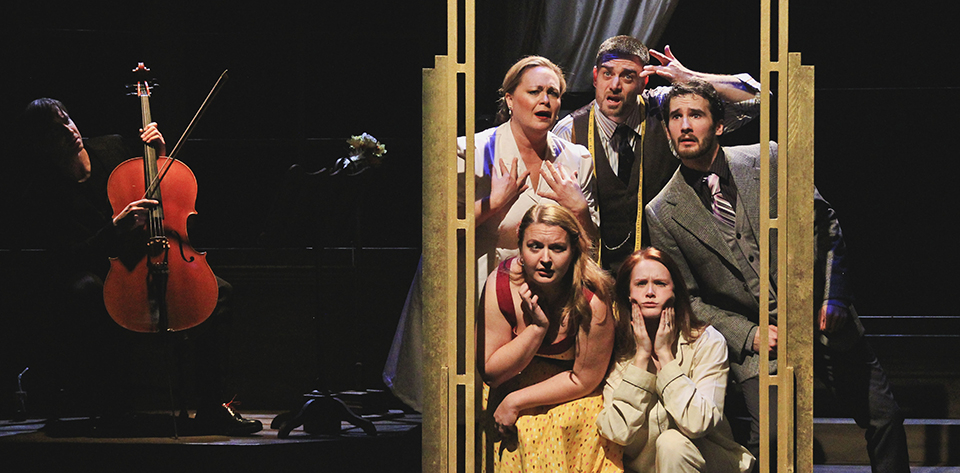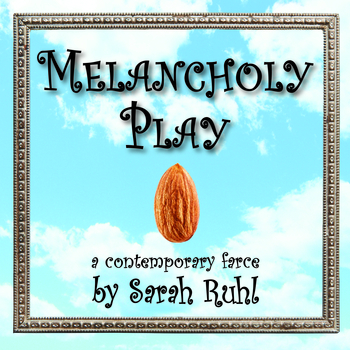 February 24 - March 12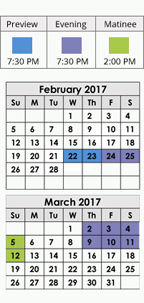 Tilly's melancholy is of an exquisite quality. She turns her melancholy into a sexy thing, and every stranger she meets falls in love with her. One day, inexplicably, Tilly becomes happy, and wreaks havoc on the lives of her paramours. Frances, Tilly's hairdresser, becomes so melancholy that she turns into an almond.
It is up to Tilly to get her back. Melancholy Play is a contemporary farce by MacArthur "genius" Fellow Sarah Ruhl. You might remember her unique spin on Eurydice or her award-winning comedy The Clean House.
"If you've never experienced Sarah Ruhl's work before — or if you've wondered what all the fuss over the lauded American playwright is about — Melancholy Play is a good place to start... whimsical, surrealistic, even absurdist somewhat...." - Dallas News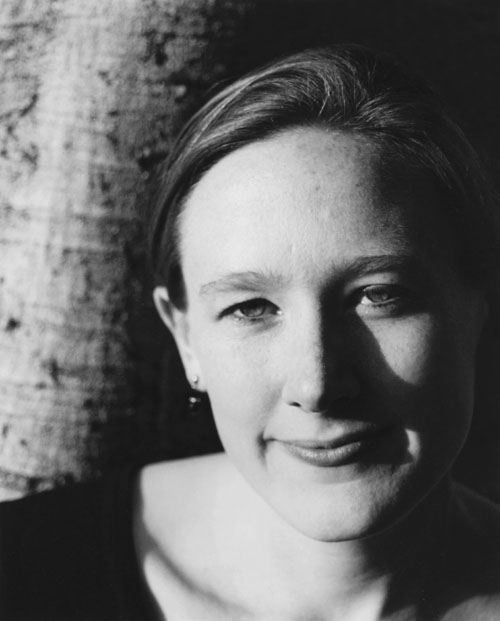 SARAH RUHL (Playwright) is an award-winning writer, whose plays include: Stage Kiss; In the Next Room, or the vibrator play (Pulitzer Prize Finalist), The Clean House (Pulitzer Prize Finalist, 2004 Susan Smith Blackburn Prize winner); Passion Play, a cycle; Dead Man's Cell Phone; Melancholy Play; Eurydice; Orlando; Dear Elizabeth; Late: a cowboy song; and, most recently,The Oldest Boy and For Peter Pan on her 70th Birthday. Her plays have been produced on- and off-Broadway, at Lincoln Center's Mitzi Newhouse Theater, and regionally all over the country. Her plays have also been produced internationally and have been translated into over twelve languages. Originally from Chicago, Ruhl received her M.F.A. from Brown University where she studied with Paula Vogel. An alum of 13P and of New Dramatists, she won a MacArthur "genius" Fellowship in 2006. She was the recipient of the 2016 Steinberg Distinguished Playwright Award, the PEN Center Award for a mid-career playwright, the Whiting Writers award, the Feminist Press' Forty under Forty award, and a Lilly Award. Ruhl proudly served on the executive council of the Dramatist's Guild for three years, and she is currently on the faculty at Yale School of Drama. Her book of essays on the theater and motherhood, 100 Essays I don't have time to write, was a Times Notable book of the year. She lives in Brooklyn with her family.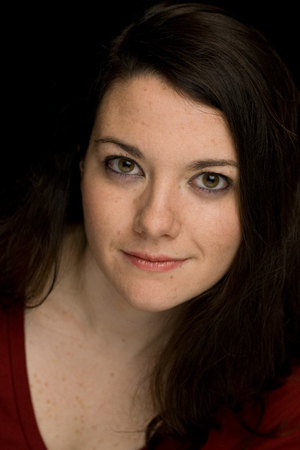 TARA WIBREW (Director; Associate Producer) has a Masters in Arts Management from the University of Oregon. She has a background in theatre performance, directing, administration, costume design, and stage management, including training at NYU's Tisch School of the Arts' Atlantic Theatre School. OCT credits include: Vanya and Sonia and Masha and Spike, A Bright New Boise, August: Osage County (director); Shrimp & Gritts: She's Gone (Clementine), boom (Jo); Clybourne Park (stage manager); The Real Thing and Next Fall (costume design). Other select directing credits include The Pillowman, The Last Days of Judas Iscariot, and Cyrano de Bergerac. In her spare time, Tara sings lead for Soul Restoration Project, a local blues and soul cover band.

BEN BRINKLEY (Julian) previously played the cello at Oregon Contemporary Theatre a year ago in Jason Robert Brown's The Last Five Years, and he's delighted to be back and working with with Tara and this wonderful cast and crew. Ben studied cello with Ray Davis of the Seattle Symphony and Hamilton Cheifetz of Portland State University. He has performed with Evynne Hollens and Nathan Alef at Eugene's Shedd Institute and elsewhere, and is the cellist of Eugene's Owl Road String Quartet. Ben loves playing chamber music with friends and exploring the world with his family, all of whom know more about theatre than he does. He'd like to thank his wife Rachael (playwright/critic), daughter Jane (singer/actor) and son Hugh (actor/dancer/singer).

LESLIE JONES (Frances) is thrilled to be making her Oregon Contemporary Theatre debut. She was last seen as Dr. Joan Scott in Whose Life is it Anyway at the Very Little Theatre. Other Eugene performances include Spamalot, Love, Loss and What I Wore, and Anne of the Thousand Days (VLT). She has a B.F.A. in Performance from the University of Texas at Arlington, and outside of her theatre pursuits, she is a hairstylist at Bello Spa in Eugene. She would like to thank her family, friends, and boyfriend for always being supportive, and the cast and crew for creating a safe space to explore and play in this world of almonds.

CHELSEY MEGLI (Tilly) joins the cast for her first show with Oregon Contemporary Theatre. She has been involved in theater ever since her renowned interpretation of Girl #2 at age 12 and can't seem to kick the habit. Recent roles include: Martha in The Children's Hour, Nadia in The Vertical Hour, Louise in Play On, Susan in Company, Frances in Five Women Wearing the Same Dress, and Annelise in A Family Reunion (originating role). Chelsey also enjoys the technical side of theater, having spent time directing, stage managing, and set decorating. She would like to thank her family for supporting her, and her director, Tara.

TRACY NYGARD (Joan) is excited to be making her Oregon Contemporary Theatre debut. In this area she has appeared mostly on the Cottage Theater stage. Some favorite roles at CT include: Gertrude in Hamlet, Lady of the Lake in Spamalot, Rona in 25th Annual Putnam County Spelling Bee and Fantine in Les Miserables. She also spent 15 years performing in the Boston area. Select roles include: Desiree in A Little Night Music (Metro Stage Company), Georgeanne in 5 Women Wearing the Same Dress (Quanapowitt Players), Truvy in Steel Magnolias (Wellesley Players), Muriel in Dirty Rotten Scoundrels (Concord Players), and Florence in Chess (Turtle Lane Playhouse). Tracy earned a B.F.A. in Musical Theater from The Boston Conservatory.

KELLY ORISTANO (Frank) is supremely grateful to be making his Oregon Contemporary Theatre debut in Melancholy Play. Local theatergoers may have seen him attacked by little girls in ACE's Annie (playing Bundles/Drake/Healy), by a vicious bunny in VLT's Spamalot (The Historian/The Minstrel/Sir Bors), and most recently by a deadly cobra in VLT's The Explorers Club (as the Irish Assassin/Beebe.) When he's not engaged in falling on stage, he tries to not fall off of his bike as often as he is able. He would like to extend his thanks and admiration to Sarah, Tara, and this wonderful cast and crew. Special thanks and love to his partner for life, April.

JOSEPH WORKMAN (Lorenzo) is happy to be returning for his fourth production at Oregon Contemporary Theatre. His most recent performances saw him travelling to San Diego for the Fringe Festival production of I Got Guns by Dan Stone, after which he joined the ensemble of the International Opera Theatre of Philadelphia for their adaptation of A Midsummer Night's Dream in Citta della Pieve, Italy. Other OCT credits include Con in Stupid Fucking Bird, as well as Fred/Young Ebenezer in both productions of A Christmas Carol. He would like to thank the hardworking staff and crew at OCT, and is especially grateful to his parents and Liz & Matt for their patience, love, and support.
GABE CARLIN (Sound Designer, Properties Master; Sound Engineer) joined the Oregon Contemporary Theatre staff after graduating from the University of Oregon with his undergraduate degree in Theatre Arts, focusing in sound and lighting design. He served as Technical Director for the Pocket Playhouse and designed numerous shows in the Pocket Playhouse and on the University's main stages. Gabe's OCT credits include: sound design for The 39 Steps, The Santaland Diaries, The Big Meal, Shrimp & Gritts: She's Gone, Vanya and Sonia and Masha and Spike, Blackberry Winter, The Last Five Years, Stupid Fucking Bird, and Lucky Me; lighting design for Who's Afraid of Virginia Woolf?; and properties for The Revolutionists, A Christmas Carol, and Silent Sky.
STEEN V. MITCHELL (Scenic Designer) appreciates having the opportunity once again to work with a talented production team at Oregon Contemporary Theatre. She has designed scenery for more than 20 shows at OCT between 2004-2017, including: The Big Meal, Silent Sky, Who's Afraid of Virginia Woolf?, The Great Gatsby, Fahrenheit 451, The Four of Us, Frozen, West Moon Street, and Mother Courage. She worked as a visiting designer at the University of Wisconsin La Crosse in Fall 2013 and designed the set for the University of Oregon's I Ain't Yo Uncle in 2012. Steen has also designed for: Eugene Ballet (puppets), Eugene Opera (props), and Lane Summer Musical Theatre (sets, including Singin' in the Rain). She gives very special thanks to Janet Rose for mentoring theatre students, and to Sue Dockstader for her love and support.
MICHAEL A. PETERSON (Lighting Designer) returns to Oregon Contemporary Theatre to design his third show of the 2016/17 season. Previously, he has designed the lighting for: The 39 Steps, The Big Meal, Silent Sky, The Last Five Years, A Christmas Carol, The Great Gatsby, and Next to Normal. Other companies that Michael has designed for include: American Players Theatre, National Tour of City of Angels as a lighting design assistant, Valley Music Festival - Solvang, CA (David Crosby & CPR, Michael McDonald & Christopher Cross), Solvang Country Music Festival (Suzy Boggus, Desert Rose Band, Zaca Creek), Eugene Ballet, Eugene Concert Choir, Eugene Opera, Eugene Symphony, New Hope Christian College, Northwest Christian University, Oregon Bach Festival, PCPA Theaterfest, Skylight Opera, U of O – School of Music/Opera Department, Willamette Repertory Theatre, Willamette University, Diablo Valley College, Allan Hancock College Dance Department, The Music Academy of the West, San Jose Rep, and S.B.C.L.O.
JENNIFER SANDGATHE (Production Stage Manager) is delighted to join the staff at Oregon Contemporary Theatre this season. So far this season, she has stage managed The 39 Steps, The Big Meal, The Revolutionists, and Shrimp & Gritts: She's Gone. She has previously stage managed at The Shedd and worked as a Stage Management Professional Assistant with Sacramento Music Circus. Jennifer graduated from the University of Oregon with a B.A. in Theatre Arts and a Business Administration minor, where she stage managed shows such as Pride & Prejudice, Landscape of the Body, and Breaking the Code.
ARIANA SCHWARTZ (Costume Designer) is thrilled to be working at Oregon Contemporary Theatre for the first time. She is a fiber artist, designer and teacher, and holds an M.F.A. in Theatrical Design from University of Texas at Austin. Ariana currently teaches costume design at the Academy of Arts and Academics (A3) in Springfield and teaches fashion and textile courses throughout the community. Special thanks to the lovely cast and crew for making this show such a pleasure to work on.
CULLEN VANCE (Composer) is a professional musician, composer, actor, animator, and storyteller based in Eugene, Oregon. Cullen is known mostly for his "live looping electric violin" performances. His prior clients include the Oregon Bach Festival, Ballet Fantastique, Flex Studios, Lane Arts Council, LCC, UO, and the Oregon Country Fair. You can contact and learn more about Cullen at his website: CullenVanceCreative.com